Peek Inside SERVPRO's
"Multi-Million Dollar" SEO Strategy 
See Why it's Both a FAILURE and a HUGE Opportunity for Franchisees & Independents
It is my hope, in this article to show you what's truly working online in the restoration industry by giving you a glimpse into the strategies and tactics of one of the restoration industry industries' biggest players.
This article will help BOTH franchisee and independents
leverage the challenges & successes so they can immediately drive sales
I'm sharing my take (based on data collected from public sources) on a major restoration companies:
marketing strategies

the tactics used

a history of their link building,
(including their position(s) in the Google search engine results (SERPS) page)
 They ARE a major player in the restoration industry market.
If you're in the business,
you can't help but have heard about SERVPRO'S growth
SERVPRO Marketing & Reviews
About SERVPRO
More details on their wiki page
SERVPRO  — B2B restoration industry Company
Founded in 1967 by the Isaacson family, SERVPRO is a leading national franchisor, providing services in both residential and commercial property mitigation, restoration and reconstruction following damage related to water, fire, mold or storm activity.

Since its founding, SERVPRO  has now grown to over 1,800 franchisees in the United States and Canada. 

SERVPRO was recently in the news regarding a new "partnership" with private equity funds managed by Blackstone and have recapitalized SERVPRO 
I wanted to bring attention to this situation because most of the SERVPRO franchisees have tumbled off of the 1st page of Google ,due in part to the recent "BERT" and Possum search algorithm updates.
It's "as they say in the business", another Google SLAP!
"[BERT] represent[s] the biggest leap forward in the past five years,
and one of the biggest leaps forward in the history of Search."

The Fall Out
90 days ago SERVPRO.com was ranked #141,799 in the world…
Currently, their traffic rank is #211,454 
A fall of 72.2K
---
Traffic trend for SERVPRO.com
(over the last 2 years)
Even though SERPRO fell 72.2K in Alexa world ranking, it doesn't appear that the BERT algorithm substantially affected their traffic as it did for so many franchisees.
However this event becomes STRIKING when you compare the data to a handful of random SERVPRO franchisees.
---
Traffic trends over a 2 year period for 4 random SERVPRO  franchises
---
SERVPRO corporate seems to be maintaining its position thanks to some curious backlinking while the 4 randomly chosen franchisees are suffering.
A little history
In the old days (prior to the Google Possum update) the larger the number of incoming links resulted in Google rewarding you with top rankings. Now that BERT is layered over Possum, things have dramatically changed.
It appears Corporate is still hanging on thanks to some themed, incoming links, (especially) traffic and links from all 1,800+ franchisees.
Threats
Google may soon realize that many of these incoming links and traffic are coming from what could be construed as "satellite" sites, and Corporates rankings may change (dramatically change in a negative direction).

Especially if Google perceives those links as PBN's.(private blog networks)
Think I'm kidding?   
Keep reading...
---
Here's how Google identifies private blog networks

Cross-site "footprint" where much of the technical data on the sites are the same

Many PBN networks are on the same IP

Same shared servers

Same WHOIS information

U

se the same content across sites
Let's take a closer look and compare
(footprint) When you compare the

franchisee

sites, they look incredibly similar, all with the same look and feel. You could easily say they share the same footprint.
For example SERVPRO New London and Old Saybrook (similarities are highlighted)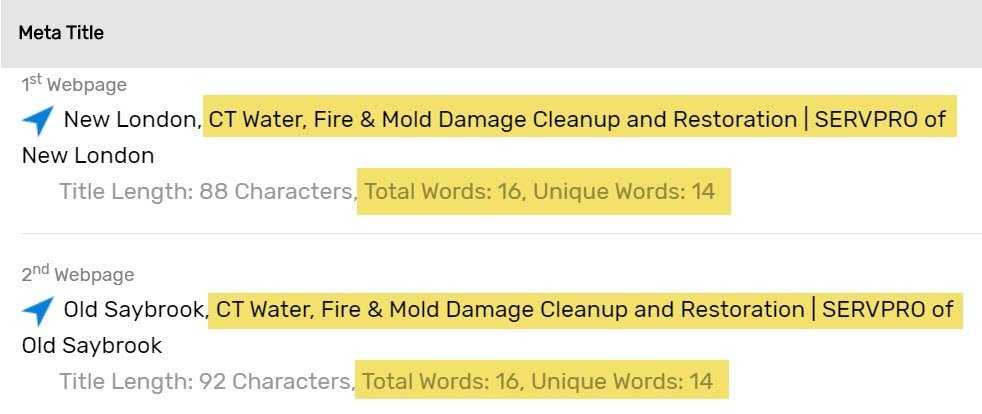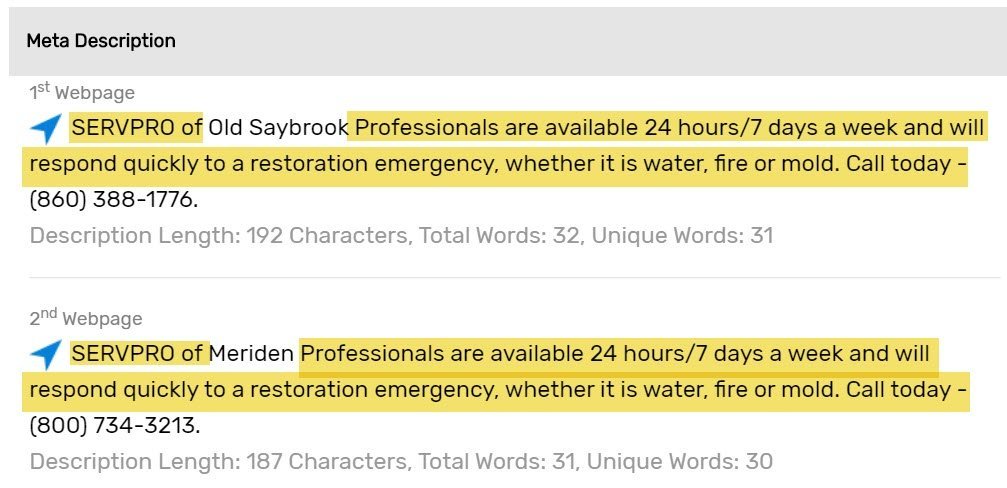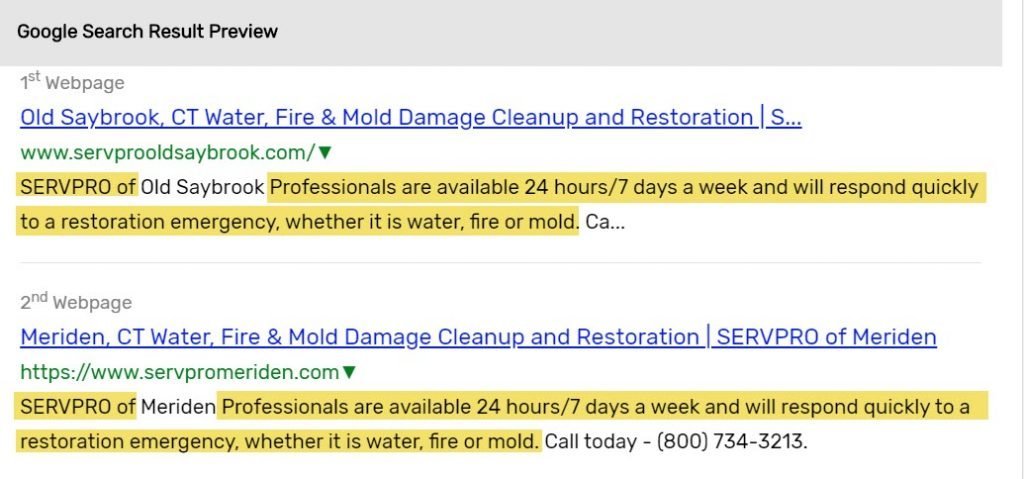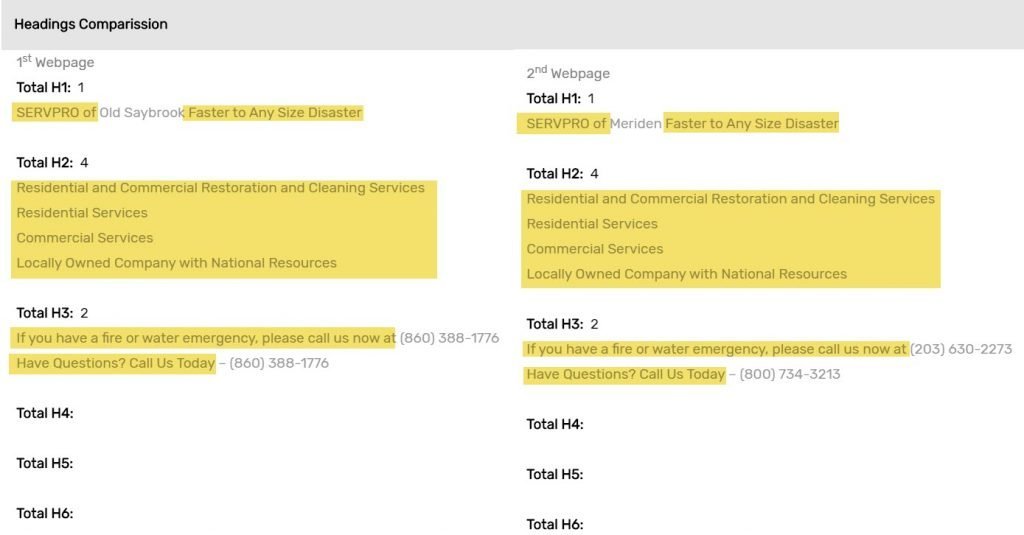 ---
2.)  (IP address) There are 414 of these sites sitting on corporates IP address
3.) (servers) The DNS server info
4.) (WHO IS) If you randomly look at the WHOIS info on the sites, you'll see they are all the same.
5.) Same content across sites
A.) I compared the text on the home pages of SERVPRO New London and Old Saybrook and found almost a 40% duplicate content situation.
B.) I ran www.servprooldsaybrook.com through a duplication checker.
C.) Duplicate matches
For demonstration purposes, h
ere's an example of one of the pages
This also highlights the "footprint" concept we discussed earlier.
This is how the duplicate content looks on the page
All dup content is highlighted
Taken separately, the items may not be significant
If taken collectively, Google may see them as PBN's or recognizes these links as being connected to corporate through corporates direction and devalue them.

I am not sure of the details but there was a time where all the SERVPRO sites fell off of Google and there was a scramble to get them back.
I was told they were de-indexed because they had completely DROPPED  OUT of Google's results.
You may remember when this happened.
My point is...
It's critical to work on your own LOCAL content, link building, video, and image optimization, while consistently posting your info on all platforms.
But you need to do it in the right way.
Let's go deeper
Summary Of SERVPRO.com's backlinking Strategy
Quite a few incoming links were found.

With BERT/Penguin, those links really need to be re-evaluated because theme links (even small amounts) drive rank better than a large number of non-related links. (Non-related links can hurt you)
In this example, I immediately see that Corporate has a few "off theme" referring domains.

If I were a Google bot scanning the site (say in the next round of algorithm changes) I  would flag those links because they look sketchy and don't adhere to best practices.
Links from domains like
Below are landing pages from the links above
This link was in Russian. Relevance?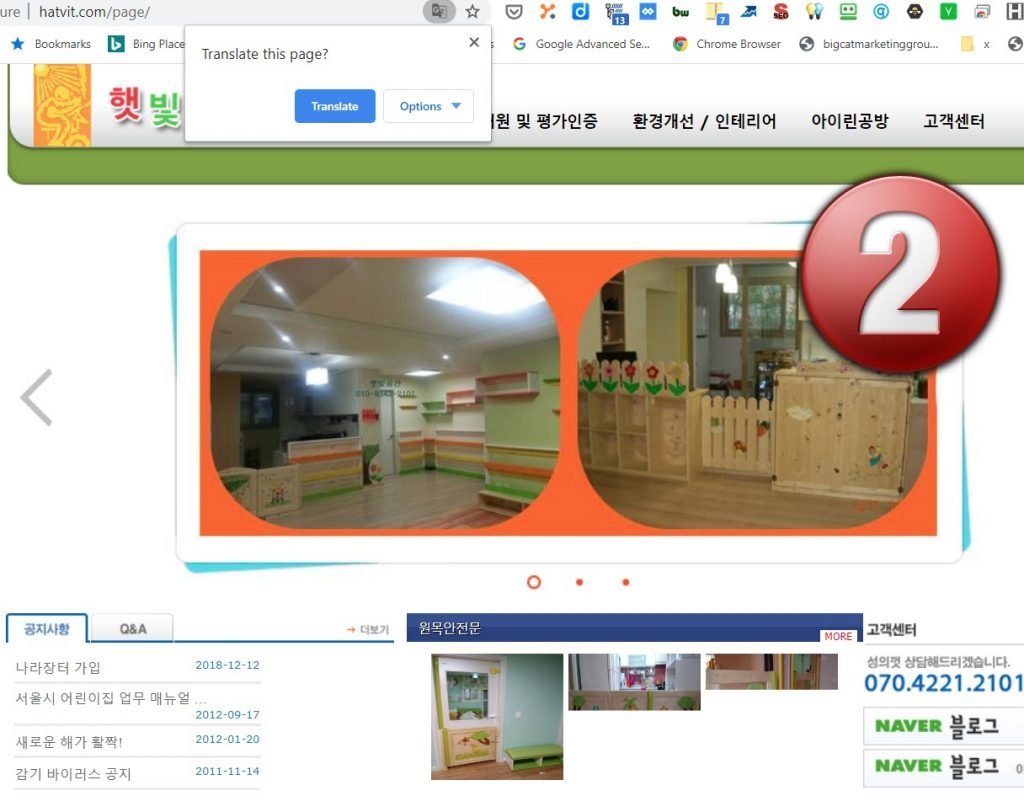 This link was from a site in Chinese. Relevance?
One incoming link is from the sex education and counseling section on Amazon.com…
I'm tracking down... Why some franchisee ip's are listed in the report as coming from an IP in France.
Initially I thought it was a mistake...
Until I saw the same IP address listed for a number of franchises.
Interesting detail...
It appears there is 4 significant website(s) that are key to SERVPRO.com's online marketing success. 

SERVPRO.com (internal linking)

FRANCHISEES Linking Back to corporate 

CHAMBERS OF COMMERCE Links (multiple)

INDUSTRY/THEME RELATED.org




(Like INSURANCE Directory, CLEAN UP RESTORATION, * similar Directories)
Even with the 4 categories of themed links...
I'm sure you'd agree, the rest of the links mentioned above are troublesome at best.
The reason I bring this up is not to worry you but make you aware of just how important it is to educate Google and how critical incoming links are.
I know Corporate recommends outgoing links to high trust sites and I agree with them.
But that is only a small part of moving the needle.

You should make the effort

to have a link building plan in place and execute it on an ongoing basis
It's best when you control the links rather than the links control you
SERVPRO's Traffic
There are only 2 things that make ANY site successful.
One is conversion and the other is traffic.
The bulk of their traffic is primarily through organic search.
This is how it breaks down...
The top 8 keyword's generate 52.84% of the traffic.
IMO that is dangerous.
Especially when you realize the vast number of keywords are "hidden" in Google.
The top 8 keyword's generate 52.84% of the traffic
The majority of the remaining keywords are found on page 5-10
After analyzing SERVPRO's 35,252 organic keywords
 - 3,046 rank on the first page of Google
- 1,720 rank on page 2 
- the balance are hidden deep in the Google SERPs
35,252 - 3,046 = 32,206 kw/pages (essentially hidden)
Where would you hide a body on Google?

PUNCH LINE - on page 2 of the serps, because no one would ever looks there!
Let's Compare and Contrast the Corporate site with 4 Random Franchisees
SERVPRO Meriden  - 5 KW on page 1
The remaining 156 kw's languishing deeper in Google
(click image to expand)
SERVPRO  HollywoodHallandaleAventura -  1 KW  page 1
The remaining 186 kw's fading deeper in the Google abyss.
(click image to expand)
SERVPRO Bloomfield - 14 KW on page 1
Remaining 310 kw's are decaying even deeper in Google.
(click image to expand)
SERVPRO New London - 0 KW on page 1
Remaining 79 kw's are lost deeper in Google.
(click image to expand)
Corporate seems to be winning this game. NOTE, I've heard many of the 1,800 franchisees are suffering. 
I can't verify that since I haven't spoken to all of them, but in the community, that's the scuttlebutt.
So what can a

franchisee

do?
Let's start with what real estate is available.

Here's an example:
That's a Google search for water removal Glenn Mills… 
Out of almost 17 million possible results. 
Specifically 16,900,000 results.
SERVPRO of Southern Delaware owns 4 positions.
Closer look
1.) Maps
2.) Three (local) Pack
3.) Organic (video-YouTube)
Closer look:
Example thumbnail from a client's YouTube channel that dominates their local SERP's .
4.)  Organic search result
---
It would be easy to add 2 more positions and really dominate the page
We could quickly and easily add a slot in the Google Guarantee position and another spot in Google PPC. 
That would put them in 6 slots/positions on that SERP
See the details on how a local franchisee grabbed page 1 Google rankings and dominated the page.
Disclaimer SERVPRO of Southern Delaware is a client of ours.
---
If you can't do that, then shoot for this:
We searched for water damage companies Branford. 
I suggest you shoot for:
Advertising in Google Local Services (use to be called Google Guarantee)




You don't have much control over the advert, but the good news is you only pay when it's a real lead. Google records the call so you have a way to prove your case.

Sign up here https://ads.google.com/local-services-ads/

Work your Google My Business (GMB) account. Details and steps are found later in this post.




(Many say your GMB is now your new home page and it should be treated as such.)

Work on leveraging your YouTube channel to take the top organic spots.
Google continues to be a moving target. (SERVPRO of Branford use to dominate this particular search result)
My point is, you need to know the rules and you need to take action on them consistently or your position on page 1 will disappear too
This one is SPECIAL
Here's a Google search for Meriden fire damage remediation
What makes this SERP so special?
Google sees SERVPRO of Meriden as the authority in Meriden. 
The knowledge panel appeared
WITHOUT using the brand name SERVPRO  in the search!

Essentially Google is telling the searcher:
For anyone searching for Meriden fire damage remediation, SERVPRO of Meriden is Google's choice.

Here's why:
NO ADS

SERVPRO of Meriden owns the top 3 places in the SERPS
And their knowledge graph dominates the page
Since SERVPRO of Meriden owns so much virtual real estate on this page,
they appear as trustworthy experts in their local area.
If you were a consumer looking for Meriden fire damage remediation, and YOU saw that Goggle result...
Do you think SERVPRO  of Meriden would be your 1st call?
What do you need to get this kind of a result in your territory?
You need to consistently test your GMB account.




(we test accounts and take those results and share them with our other accounts)

GMB requires good pictures, frequent, consistent, valuable posts, a structured linking program that links out to your site and using social (correctly) to help build your local brand.
(details on social in an upcoming post)

You should also add a 360 video and make sure to link your AdWords to your GMB too.

Spend your time developing local content, that offers GREAT value. 


Do not, I repeat DO NOT
Go through the motions, and put up the bare minimum suggested by Corporate.
There's a LOT more to having success then just checking off Corporates boxes and get to stage 5!
If you are serious about becoming great at local, growth, marketing...
More tips on link-building
(3 ways to get links in by linking out)
Social becomes the local brand and link power too
(3 best ways)

Secret gmb link process that no one ever told you about
Get the bonus link cheat sheet below
One more thing... The content has to be set up properly.
For example, Google wants you're help to better understand what your page/posts are about.


Here's how you do it:

1) Google sees your page as an outline. If you want to see how Google bot sees your page, add cache:  to the front of your url, like this… cache:https://www.SERVPRO  hollywoodhallandaleaventura.com

The page changes to this. 
When you click Text-only version this happens
It looks like an outline and this is how Google bot sees the page.

Here's a BIG clue.
Google gives a lot of weight to your title tag. 
This ties into the outline so stay with me.
---
Posting in SERVPRO.net, you're limited in what you can and can't do
Based on those limitations, here's what I recommend:
The name of your post becomes the title tag so it's critical you use the kw's you want to rank for in the name of the post/title tag.
When you are in the back end (SERVPRO.net) creating your post….
Make sure to use the H1 Tag (only once per page). It can be one word or a phrase. 
Consider that H1 tag as your way of telling Google what your page is primarily about.

Add it by selecting/highlighting the targeted word or phrase.

Then go to the menu (directly above where you're adding your post) and select H1 from the drop-down
2) Don't forget the image that you're adding to the post.
Make sure to fill up the metadata in the picture before you load it up in SERVPRO.net
I add metadata information to all pictures that I post on blogs, social, GMB, everywhere we use images.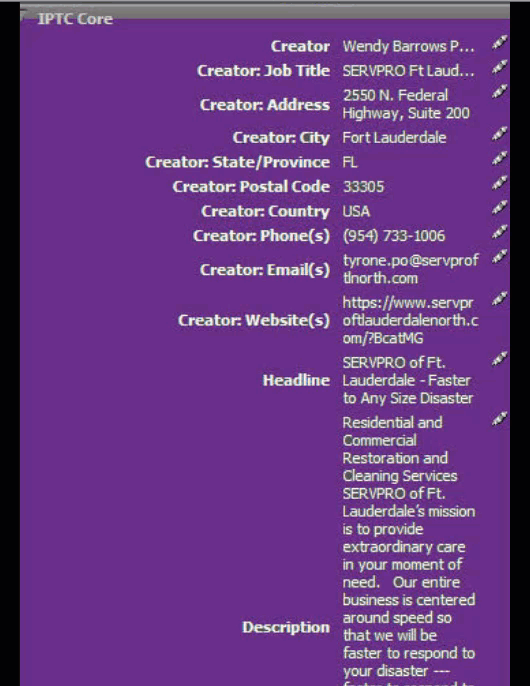 Why is the metadata so important?
Because image search (how people find you using image search) is HUGE.
There are over 2 trillion Google searches per day in 2020, but Internet Live Stats, an excellent source for making assumptions, claims around 5.5 billion searches done on Google per day or over 63,000 search queries done per second. Pictures are searched a lot!

When you go through all this effort you are helping Google better understand your business and you are building a local brand.
When you go through all this effort you are helping Google better understand your business and you are building a local brand. Here's how you can do it.
There are 7 major categories in metadata, with multiple pieces within each category
IPTC Core

File properties

IPTC extensions

Camera date

Audio

Video

GPS (latitude and longitude)
ALERT - Google can read the copy inside your images.
That's why we use images like this
This helps in Google rankings and helps position our clients as trustworthy to humans too.
'Remember, the more you help Google better understand what your page is about...
The better your chances are that Google will reward you with a higher rank in the SERPS.
 That means more visitors to your website too!
A common question is, does Google really need the help?
Here's a great example (pulled from a GMB account using the insights tab) of a typical GMB account vs one of our clients. This shows how Google (Google My Business sees a SERVPRO site & their GMB too)
NOTE- their GMB is being seen as relevant for laundromats AND is primarily being shown when people search Laundromats.

NOTE - Their GMB/Knowledge panel is getting a lot of exposure.
 If you only look at the exposure numbers without looking deeper,  you may think they are doing great.
Sadly you would be wrong because they are being seen by all the WRONG people. 
People looking for laundromats are not your best target prospects.
Compare that with (full disclosure) a client of ours...
Their GMB/Knowledge panel is showing (thank you Google) to people that are actively searching for SERVPRO, mold professional, mold cleaners.
 All these things are relevant to what their best target client is searching for.
So YES. Google needs your help to better understand what you do. 
Using this example, if we leave Google to try and figure it out on their own, SERVPRO  = Laundromat.
Remember 
It's not just about exposure...
It's about exposure to the right kinds of searches and people
Social FAQ's - And YES we offer a guarantee 
---
There's more...
Great content needs to be promoted
After all your hard work creating good content, (and adding cool images) you need to promote that content. 
There are 2 ways, SEO and Social
SEO

Using Google as the target, we need to send signals that your content is good and Google needs to put it on the top of page 1.   (we can do this with COI's using LinkedIn too, but that's a post for another day) 
Think of it as voting.

The more votes, the better chance you have for ranking #1. 

You get these votes using inbound links.

Links = votes
Link Building
REMEMBER, stay away from junk links!
When I say link building, I'm talking about theme-related high-quality links that will help your SERP rankings and not jeopardize them.
So instead of getting odd links from China or the Russian page (like I mentioned earlier) work on getting local, theme-related links.
For example
I recently found my FL clients a .gov site. 
It has a page that includes water, fire, and mold restoration companies in Florida. 
The extra special benefit? They also broke it out by county.

It was huge for my clients because they were offering a subcategory tied into their local business territory.

It is a very RELEVANT link focused on your local territory and it comes from a highly trusted government site.

According to Google, links like that are both powerful and effective.
We regularly find these kinds of links for our clients.
SERVPRO  is a national brand (you are not the only SERVPRO) and what we are suggesting is targeted local brand building, all focused on your local franchise.
How can you do it?
A good example of "easy link building" is sponsorship.
There are lots of local, sponsorship causes and organizations, but how do you find these opportunities?
Here's one way we do it using Google search.
"city inurl:sponsors" (

Example: Los Angeles inurl:sponsors

)

"city inurl:sponsor" (

Example: Los Angeles inurl:sponsor

)
Put those specific searches into Google and Google will give you a list of potential companies that are looking for sponsorship in the Los Angeles area.
Swap out Los Angeles with a city in your territory and you've got your LOCALLY targeted list.
Be careful tho'.
Because I came across a SERVPRO  that worked hard at collecting winter coats for people in need. 
They chose to donate all of these coats to 3 local shelters.
GREAT concept, but 2 of the shelters were located in another franchisees territory.  (New Haven CT) 
That becomes an issue for the franchisee that worked so hard on such a great cause.
Here's why...
Do you think the people in the New Haven area said: "these coats were donated by SERVPRO  of XXX"? 
I'm thinking those people simply said," these coats were donated by SERVPRO". 
So great concept, wonderful effort, but IMO they helped position the other SERVPRO franchisee in a good light, not just their local franchise.

So when I say local, I mean local to your territory so you can get the full benefit of all your hard work. That's why targeting YOUR LOCAL area is so critical.
Once you've gone through that step, you're not done
You need to promote your sponsorship so you can get value out of all your hard work.
One way is taking video and posting it online.
Done properly your video will rank high in normal organic search and in video searches too.
---
---
Another way to do that is by leveraging press releases.
In my experience, Corporate requires all press releases to go through Corporate and be implemented by their outside agency.
FYI - The agency offers "templated PR" for things like "franchise anniversary".
That's great but it can be very limiting. I tried this once and had ZERO responses from their release.
My suggestion… 
Tailor a press release to announce your sponsorship or donation, and see if you can do it on the organization's behalf. 
It will get more pickup and exposure and since the release isn't about you, you don't need to go through all the hoops at Corporate. 
The release is about the organization and you are part of their news.
---
Can't forget social
And I don't mean just a short post on your Facebook news feed and calling it a day.
There are a variety of different tools you can use that will help identify your best-targeted prospects both on and offline.

For example, Facebook has a tool that allows you to break down audiences according to demographics, interests, and behaviors. 
That means you can advertise directly to your targeted group, build your local brand, create awareness in your community and earn loyalty.
Best social success? 
It's all about timing.
When people have a fire or water damage they search Google for vendors and their decision is quick. 
We've seen decisions made in hours or at most a few days.
However, people with mold have a much longer decision-making process (up to months) that's why social can be so powerful. 
Please contact us for details and examples.
In summary:
The world has changed.
Google, Facebook and a variety of media buys (including local TV) can now get you front and center in your local market.
As an independent or franchise owner, you need to leverage these new tools to build your brand locally. 
As a franchisee, you no longer can rely on just the corporate brand to drive your business. (sometimes the negative reviews that are posted about other franchisees outside of your territory reflect on the entire brand and that means you too)
For example
You NEED to build YOUR local brand
To be clear, SERVPRO is a hard-working, cleanup and restoration franchise company, that has received top ranking in the Restoration Services category of Entrepreneur magazine's Franchise 500 list.
This is the 15th consecutive year the company has held the spot. 
The company also achieved the number 12 spot overall in the rankings.
They are a good company that works hard at doing the right thing and helping franchisees and their customers. 
There are 1,800+ franchisees but it's virtually impossible to go deep and local for each one.
That's why it is CRITICAL for local businesses (franchisees or independent) to work towards building their own brand in their local markets.
SERVPRO is a solid company. 
My point is you need to leverage the positive national notoriety of the brand while minimizing any negative feedback while building your name locally

You should not be thinking my restoration business or my franchise is different so none of this applies. 
Trust me,  after having worked with numerous restoration companies — no restoration business is that different. These suggestions work in all restoration markets.
Double-down on everything LOCAL.
Ignore everything else.
It is just a distraction.
What You Should Do Now
If you are serious about becoming great at local, growth, marketing...
More tips on link-building
(3 ways to get links in by linking out)
Social becomes the local brand and link power too
(3 best ways)

Secret gmb link process that no one ever told you about
Get the bonus link cheat sheet below
Summary (2/15/2020) 
Can you spell  D - I - S - R - U - P - T - I - O - N?
Just when you thought the Internet was done disrupting the status quo...
Here comes a HUGE change (and opportunity) to a sleepy little industry that's recession proof, service oriented (you can't lose jobs offshore) and one that you'd think is protected from any changes.
In the OLD days, the big national brands with deep pockets and better education in marketing, advertising and promotion ruled the day.
But like ALL things, change happens, the existing model weakens and eventually becomes extinct.
(think the Railroad and Airline industry)
Google calls this change BERT and it hammered lots of franchisees and other sites too.
In this case it's NOT JUST SERVPRO that's getting spanked by Google,  BUT...
SERVPRO  Corporate has a different twist on it
"

It's important to note that Google says there is nothing wrong with pages that have experienced a drop." - Jay Hinton 
HMMM...
So if nothing's wrong with the pages, why did so many CRASH and BURN while others were rewarded?
You can hear about the Google update from Jay Hinton - (the online Marketing Manager from SERVPRO) I understand it's on the latest episode of SPTV. If you are not a franchisee you won't be able to access it.
Rather than get into a debate about why or why not...
I'll let the above content speak for itself.
Credit where credit is due...
Jay does an excellent job in front of a camera, and he's a great spokesperson.
IMO, Jays has always wanted to be in front of a camera, have a look here.
And to his defense, with all the rapid shifts and adjustments online... 
It's incredibly difficult to stay abreast of all the changes and moving parts, especially when you're managing a marketing department responsible for 1,800+ franchisees.
I believe the franchise model (as it is) is in danger.
The barrier to entry into building a strong, local brand isn't crumbling.
IT HAS CRUMBLED
Possible Outcomes
1) Corporate hunkers down, blames me for sharing this public information (the king has no clothes) and shuts the door to all 3rd party vendors.
- Result?
Like any good, "nimble" entrepreneur we 3rd party vendors adapt.
(and there are some excellent 3rd party vendors out there)
One alternative might be to build our own brands (competing directly) and sell leads. 
This would add more "competitors" in to the market with NO LOYALTY to anyone.
The goal would be to simply build a strong, local brand in one target area and scale the process nationally.
2) Corporate realizes the world has changed, (the volume of change is like drinking from a fire house) and their current model is in danger of extinction.
- Result?
 Franchises in general must leave their ego at the door and work hard at developing "actionable" services that can keep abreast of the changes and really help franchisees.
3) Independents get smarter, better educated, and partner with outside 3rd party vendors that have their best interests in mind and they LEARN to DOMINATE their local markets.
- Result?
As these small bites of the apple continue to nibble it away, the existing franchise models decline in effectiveness and franchisees leave to turn into strong, local independents.
With Googles new aglo and their attention to Google My Business... It's easier than ever for a savvy, local independent to CRUSH their competitors. And that means crushing the big, national brands in their local area too.
Full Disclosure - I was at a Google event and learned of their initiative to put their massive, attention and focus on growing their GMB division.
That means Google is giving more focus and attention to local.
Remember, you're playing in Googles sandbox and in order to succeed (independent or franchisee) you need to pay attention.
Franchises... you need to change with the times and learn how to really help your franchisees.
(Trying to hold on to them "to tightly" just might have the opposite effect.)
If you're a franchisee you can no longer suckle on the franchise's teat and think you're destined to win.
Franchise, franchisee or independent, you need to take responsibility and take advantage of the disruption and everything that comes with it and grow your business.
Work smarter, not harder and seize the day.
P.S. I'll be reporting on more "interesting and engaging" topics, so sign up for the bonus and I'll make sure to keep you posted.
SERVPRO is a registered trademark of SERVPRO Industries
THIS WEBSITE IN NO WAY IS AFFILIATED WITH SERVPRO CORPORATE. WE DO SERVICE A NUMBER OF SERVPRO FRANCHISEES. ALL TRADEMARKS AND LOGOS ARE THE PROPERTY OF THEIR RESPECTIVE OWNERS. THIS SITE AND THE PRODUCTS AND SERVICES OFFERED ON THIS SITE ARE NOT ASSOCIATED, AFFILIATED, ENDORSED, OR SPONSORED BY ANY BUSINESS LISTED ON THIS PAGE.