Current Home of RealCustomerTalk.com
We're building out the site...  But you can learn more below:
A Tool for Companies With Happy Customers
First, the problem we are solving...
"Fake" reviews are flooding the internet, and consumers are becoming more skeptical... So we need a better solution!
Turn the PAIN of Fake Reviews
Into Your Advantage
Build credibility   |   Build trust   |   Build your brand (especially your local brand)
What's in it for you?
It's

  all about YOUR  Happy Customers

talking about

YOUR business
Real  - Authentic - Presented in a way that makes it harder to fake AND easy to believe (and trust).
Why the time is right for this tool
3 BIG CHANGES
That are making video reviews EXPLODE

1.) People are losing trust in "typed reviews"
Amazon has been offering video reviews for a while and they're growing in popularity.
(I still don't trust their typed reviews)
2.) Covid has made video more acceptable and less feared
Think massive use of video chat ie. Zoom
3.) New technology makes it super simple to take and load a video (1 click, no app install)
We have a 1 click video process that makes it easy for your customer and it's safe for you.
(no need to download an app, just click and start...)
Once the video is complete you get to see it and decide where to promote it.
The best way to leverage video reviews is to promote reviews from your best customers
How it works
PREP: You already know the customers that are thrilled with you.
They are the people that you reach out to.
Steps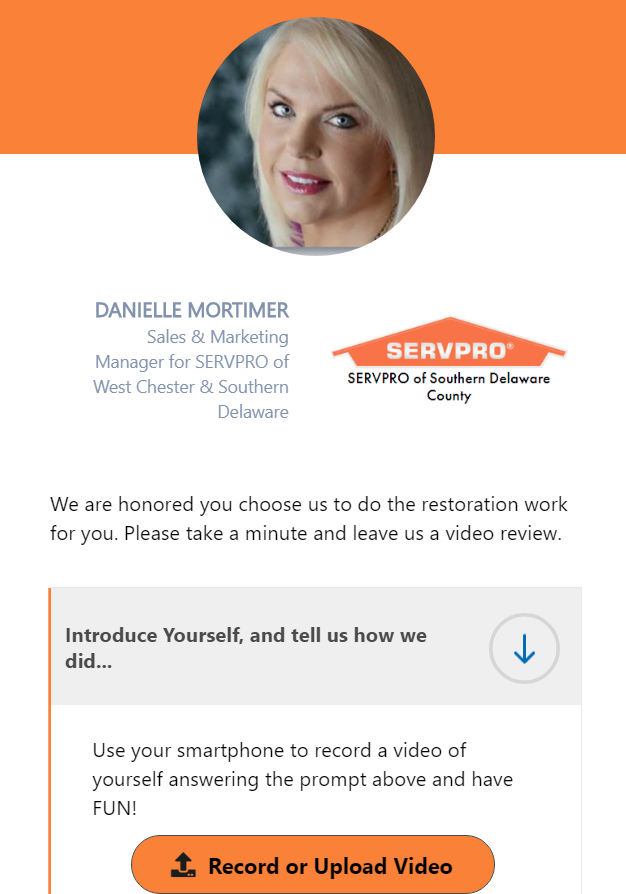 1.) Send a link (to your happiest clients) that takes them to the example screenshot.
In this example, it identifies Danielle (who was the point person), her title, the company and a short request for a video review.
(It also requires a privacy/request that allows you to use the video how you'd like)
2.) All your client will do is click "record or upload video"

They can make a video instantly (no apps to download) 1 click and they can instantly create their video, or they can upload a video.
3.) Once complete, their video is automatically brought into our dashboard for your review
Promote it where ever you like.
We recommend ALL your social platforms and on your site too.
BTW - you can "tweek" the video too. (Think adding captions or context)
Two more versions of our solution are below.
You have 3 options. Choose the example above or choose from the photo or video examples below.
The most common question I get? What do I do with these video testimonials?
The easy answer is to put them on your website.
That's typical.
You need to think more creatively.
You need to understand current tech so well that you can "bend" the rules (something we do very well).
Click and open the examples below:
If you have any questions, let's talk.
No hard sell, no uncomfortable pauses, just me answering your questions and showing you how you can leverage the big changes in the growth of video caused by COVID.
View of your dashboard for your video review KPI's:
If you're still skeptical and want more information, let me know and I'll send you over more details.
Either way, you can drop me a note here